Matricaria chamomilla (Chamomile) Oil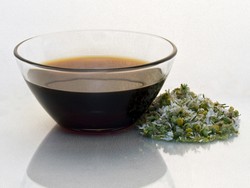 An erect annual, with 2-3 pinnate leaves and terminal peduncles supporting single flowerheads. Yellow tubular florets is surrounded by a single row of white ligulate florets which are often bent backwards. Chamomilla grows in fields as well as cultivated. Nourish skin; control skin's inflammations and irritations, rashes and other skin disorders; its anti-oxidant properties along with vitamins A, C, and E keeps skin smooth and supple.
"
Externally, chamomile flowers have a strong trditional reputation for helping to heal wounds, inflamations and other skin conditions.
Herbs used in