Calendula officinalis (Calendula) Flower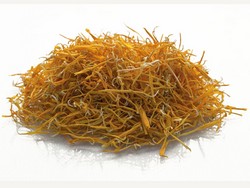 An antiseptic, soothing, anti-inflammatory herb very effective for healing very dry, sensitive skin especially after sunburn. It is also good for bruises, sprains, pulled muscles, sores and boils.petals can be used as a rinse to lighten and brighten hair. The petals also make a nourishing cream for the skin.helps to treat inflammatory problems of the digestive system such as gastric, peptic ulcers.
It was used in early Indian and Arabic cultures, and in ancient Greece and Rome, as a medicinal herb and as a colorant for fabrics, foods, and cosmetics.
Herbs used in